This year Father's Day may be a little different to all the rest, although who knows where we will be in this pandemic by 21st June 2020! The one thing that won't change though is that the day will still happen, it will still roll around and for those of us that can and would like to celebrate it I have created a small business gift guide. By 21st June we still may not all be able to see our Dads on the day, but that doesn't mean that we can't make them feel special by sending them something lovely.
The biggest thing with gifting right now is buying online!! There are very few shops open at the moment and lets be honest who really wants to stand in those long queues outside if they don't have to. Don't get me wrong I massively miss shops but there is so much available online especially from small and local businesses (many independent shops that have had to close have taken to selling online too) that this is the time to show them some real support and enjoy the convenience of it all.
So with that in mind I have picked some lovely gifts for those special dads from some of my favourite small businesses (including my own of course!)
1. Children's drawing plaque - Hannah Joy Designs
These are a perfect thoughtful gift for Dad's or Grandad's of young children. Make one of the children's lovely drawings into a plaque that they can keep forever. There are a lot of home offices right now and this plaque would look great on the wall to cheer up their day. 
Konoc make all sorts of amazing handmade leather gifts and they can be personalised with embossed stamping. The key rings would make a particularly great gift for a Dad. The headphone holders and bookmarks are great too.
3. Concrete letters and figures - Craft Tree Fam
Craft Tree Fam make lovely letters out of concrete that can be left plain or painted in a variety of ways. You can have any word, so you can spell out Dad or their name or the kids initials etc, etc. They also create lego style concrete figures and these can be painted in a football strip or to look like their favourite singer etc. (Craft Tree Fam's website is currently closed but they are still taking orders through Instagram)
4. Personalised prints - Ivy Oak Design
These prints are personalised and so make a lovely gift for Father's day. You can have a personal message or quote, so for example you can choose his favourite song lyrics or a line from a favourite film. They are all hand written in lovely lettering and the black and white style will appeal to lots of Dads and Grandads.
5. Personalised Crates - The Personalised Craft Company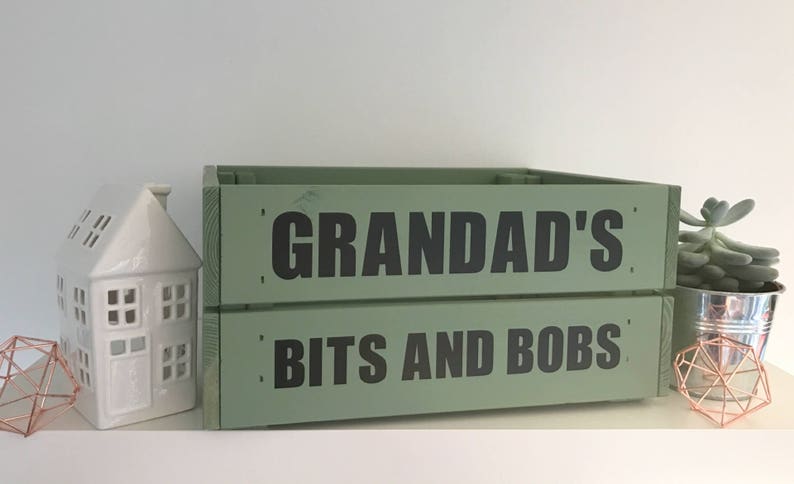 For all his 'bits and bobs' why not get a lovely personalised crate. You can also get ones for beer which would be perfect for lots of Dads and Grandads. The Personalised Craft Company also do lots of lovely scrabble letter frames and wall plaques with Dads in mind.
 6. Fatherhood T-shirt - Gemini Gifts
Gemini Gifts have these cool t-shirts and they are not only stylish but the price is amazing too. They also sell a lovely 'Our Adventure' wooden frames which would be perfect with a photograph in for Dads and Grandads too.
 7. Hand painted and personalised Father's Day cards - Nora Wright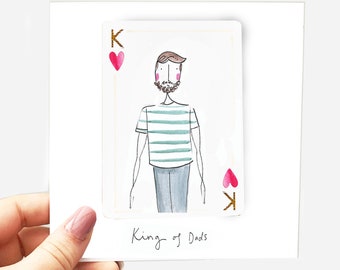 Nora Wright creates absolutely beautiful hand drawn/painted illustrations and has got a gorgeous range of Father's Day cards. Many are completely personalised and they make a really unique gift that is way more than just a card. She also creates lots of lovely prints which include hand painted family portraits
I have recently totally fallen in love with HAM, the little rabbit character is so much fun and appeals to all ages. They make mugs that would make a lovely Father's Day gift as there are so many different hobbies included in their range. I especially like the superhero one in the picture above. They also do these designs in prints, cards and much more. 
I hope you have enjoyed discovering some new shops and are feeling inspired with some gift ideas for the Father figure in your life. Support for small/independant businesses is always so important but as the future feels so uncertain at the moment it is more important than ever and every order means the absolute world. So do something great and shop small this Father's Day!
You can also follow me over on Pinterest for lots of other gift ideas. I have created a Father's Day Gift Ideas board so go and check that out for lots more inspiration.